Naturally increase your productivity by unlocking the relationship between your livestock and your soil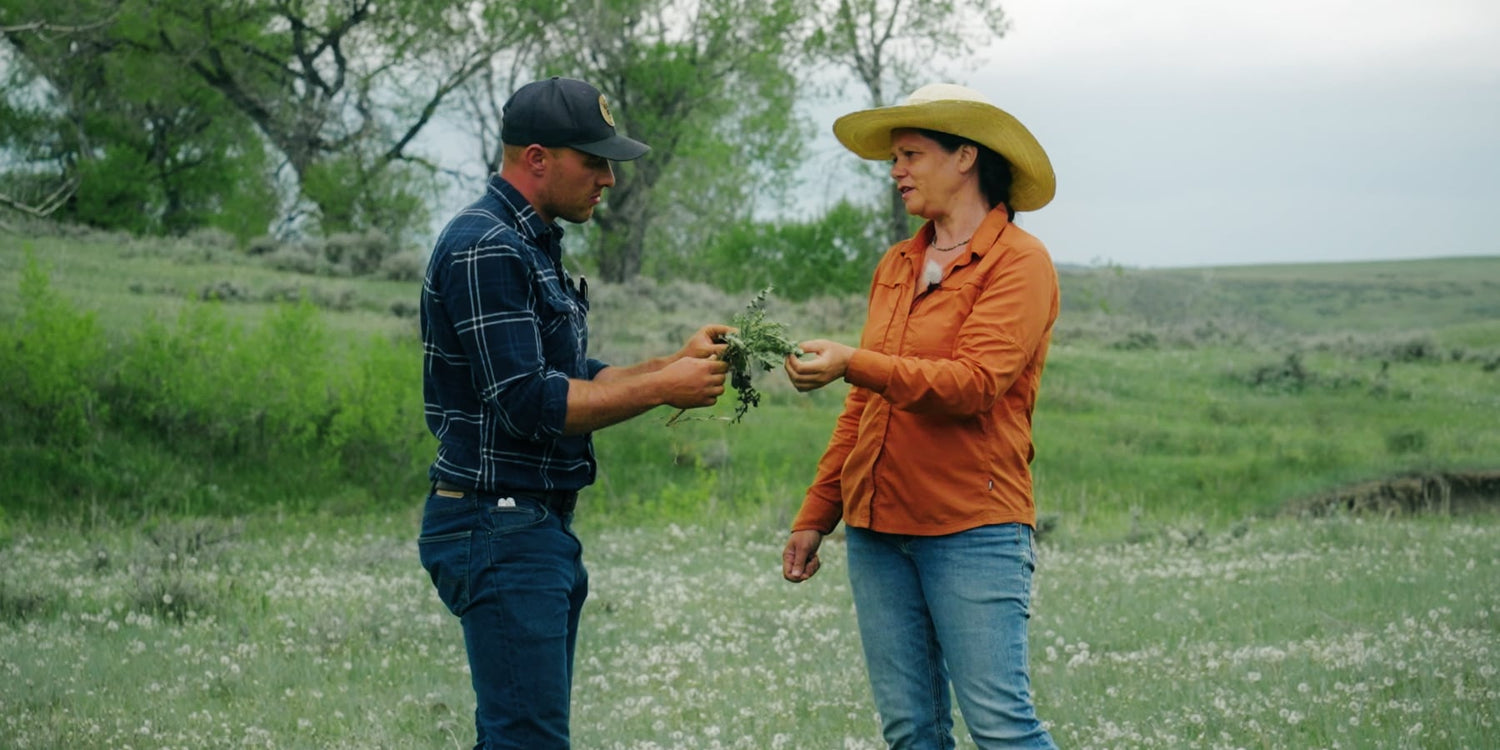 Welcome to Grazing for Life!
In this self-paced course, you'll foster a consciousness of your land that allows you to harness the power of plants, microbes, and livestock to generate greater productivity. Applying key principles, you'll reimagine your land to help your livestock become partners in regenerative productivity—rather than beasts of burden.
This course is designed to unlock the potential of any piece of land hosting any number of livestock. Across our combined 30+ years of experience in Australasia, North America, and the United Kingdom, we've seen these tactics work, time and again.
We can't wait to see what wonders they well up in your little slice of heaven!
Best,
Cody & Nicole
Enroll Now
Meet your teachers
Cody Spencer

Cody Spencer is a grazier and regenerative coach from the prairies of Alberta, Canada. He has managed cattle and bison for over a decade in both the U.S. and Canada, regenerating landscapes and building profitable businesses. A student of Integrity Soils, Ranching For Profit and Holistic Management, Cody draws knowledge and inspiration from the world's top regenerative managers and works alongside producers globally as a part of Nicole Masters CREATE Coaching Team. 




He has managed and worked with notable ranches like Cottonwood Ranch in Nevada, Durham Bison Ranch in Wyoming and Roam Ranch in Texas.




His wife Julia is a functional nutritionist and together they are living the benefits and changing the lives of others through regenerative, nutrient-dense, pastured meats. 




His deep knowledge and experience working across 200,000 acres focused on building soil, increasing production and profitability will take you to the next level on your regenerative grazing journey in the Grazing for Life - Below [& Above] Ground Livestock Course.

Nicole Masters

Nicole Masters is the founder of Integrity Soils and author of the foundational text, For the Love of Soil. Since 1999, she has practiced and educated in regenerative farming across Australasia, North America, and the United Kingdom. When not traveling around the world on speaking engagements and trainings, she's lovingly stewarding her farm in Montana.
Regular price
Sale price
$337
Unit price
per
Sale
Sold out
Grazing for Life is a deep dive into regenerative grazing and how we can take our management to the next level by empowering our underground livestock - soil microbes. Suitable for all levels of land manager, beginning to advanced graziers.
View full details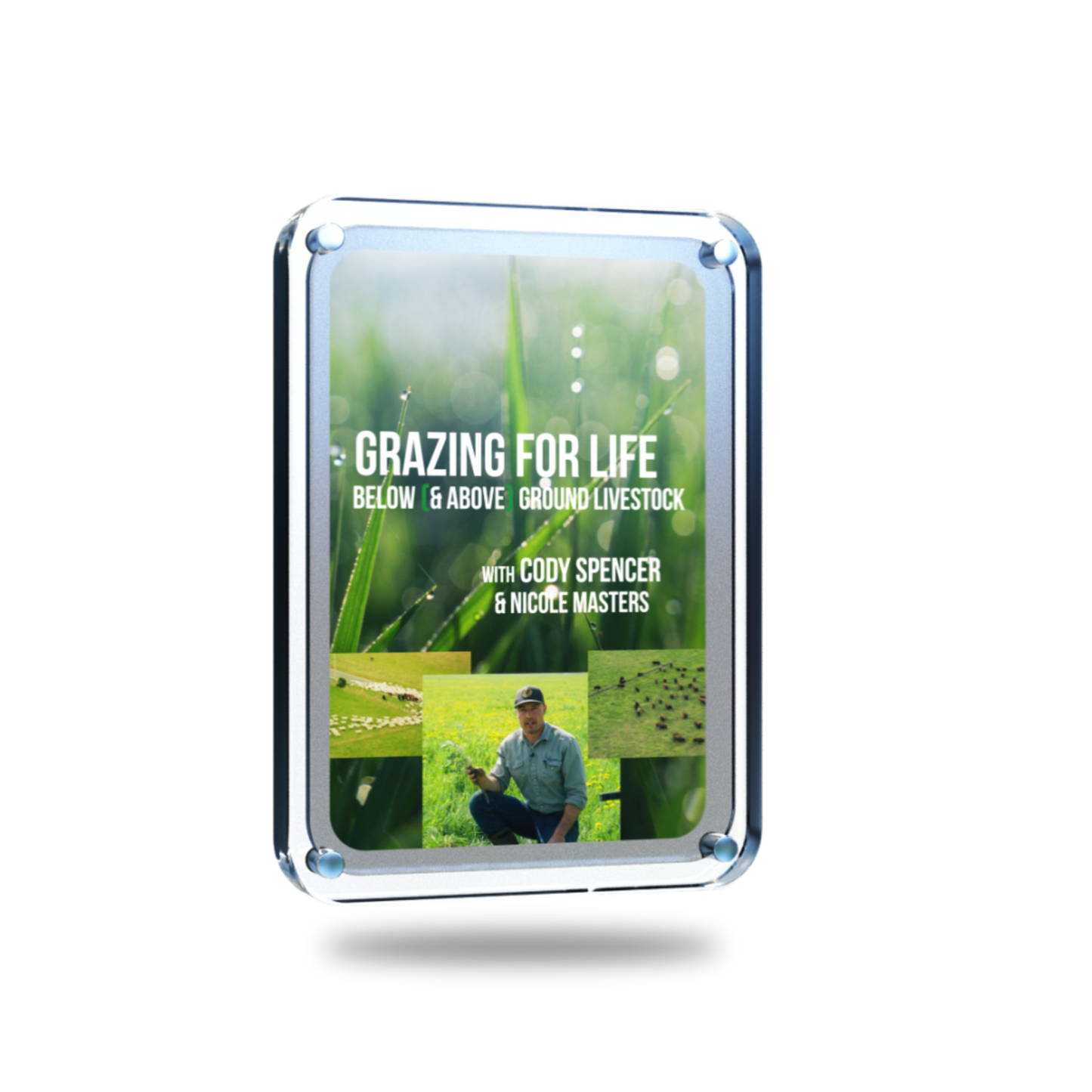 Course Aims
By the end of this course, you will be able to:
Apply the 5 M's framework and the 10 Grazing Principles to your operation
Value your context to inform and clarify your vision and goals
Tune into your plants and microbes, harnessing their power to build profitability
Recognize weeds as indicators and employ grazing strategies to shift your land
Understand and describe the nutrient cycle and different microbial functions 
Design your landscape and infrastructure for optimal grazing management
Learn how your livestock can do more work for you — above and below ground
Register Now
Course Outline
You can work at your own pace through the chapters. As you complete each chapter, the next one becomes available.
Chapter 1:     Introduction
Grazing for Life: Introduction Video
The 5 M's Supported by the 10 Grazing Principles
Chapter 2:     Context
Chapter 3:     Plant Diversity
Chapter 4:     Plant Roots
Chapter 5:     Plant Recovery
Chapter 6:     Grazing Weeds
Chapter 7:     The Nutrient Cycle
Chapter 8:     Land Design
Land Design - Google Earth Tutorial with Cody
Chapter 9:     Water & Fence  
Chapter 10:   Animal Impact
Chapter 11:   Animal Performance
Chapter 12:   Bringing it all together
Grazing for Life: Summary Video
FAQs
How long does it take to complete this course?

You can move through this course at your own pace. Once it is purchased, it will remain in your account. You can breeze through it, then come back for reference any time.
I don't live in the same region as Cody or Nicole. Will these methods work for me?

The principles laid out in this course are designed to be applied to any piece of land. Cody and Nicole have worked with different ecotypes, contexts and livestock types. Contact an Integrity Soils coach in your region to further discuss any questions you have about your land in particular.
Will I be able to talk to Cody and Nicole directly?

This is a strictly online course. If you wish to ask further questions, we recommend reaching out to an Integrity Soils coach from your region. Find your coach here.
"Nicole and Cody have assembled a comprehensive, streamlined approach to understanding the many widely accepted grazing principles that have been established by the rangeland community over the years. It's exciting and engaging to see all these solid concepts presented in a brief workshop format like this to spur action and accountability!
"Progressive grazers everywhere should give this a hard study. The practitioner can readily glean practices and strategies to apply to their operations in the short term while considering long-term commitments for improved rangeland health and productivity for future generations."
- Chris Mehus, Program Director, Western Sustainability Exchange
""We've seen massive improvements, I wish I had photos of when the farm was run conventionally, we would make sure the animals had every piece of grass that was available – now moving the herd in a mob grazing system we have so much more grass!"
- Dan Herdman, soil steward
"To understand the complexity and wisdom of nature is made easy and very readable by this global soil expert. With the knowledge she shares, it empowers us to act with confidence that we all can make a difference even if only by our choice of food.
- Tim LaSalle, PhD. Center for Regenerative Agriculture, California State University Chico; CEO Rodale Institute; Exec Director Savory Center for Holistic Management
"Out of sight, out of mind is no longer an excuse to ignore what goes on beneath our feet. Nicole Masters takes you on a subterranean tour of your operation, introducing you to a cast of invisible characters that determine the productivity of your farm and the healthfulness of the food you produce. Nicole writes like she speaks. In her colorful, no-nonsense style she tackles complex ideas and breaks things down without dumbing things down."
- Dave Pratt, Founder, Ranch Management Consultants