The planet needs passionate people like yourself, today, more than ever! This intensive training school has been years in the making, and we're excited to finally share this with you in the United Kingdom.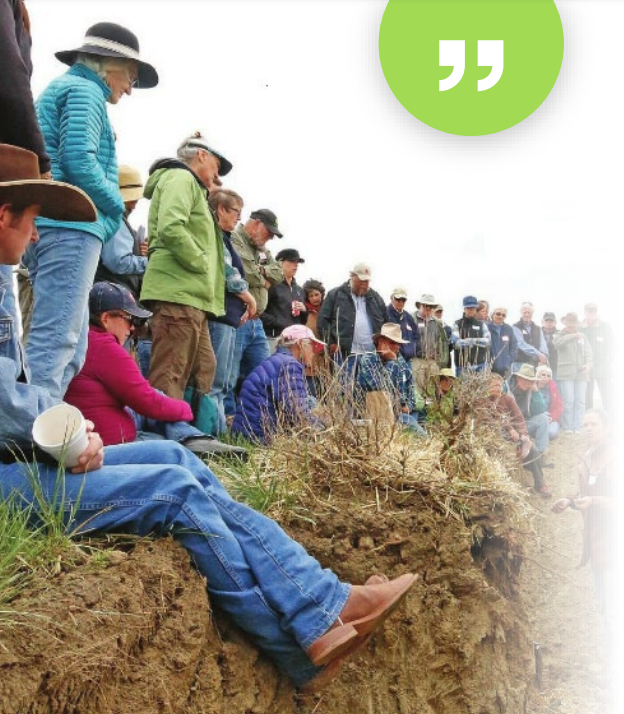 Welcome to CREATE Coaching
CREATE is an 36 -week intensive program designed to train and empower consultants and coaches in the theory, principles and practices behind healthy, agroecological systems.
At the completion of this training, attendees will have the business plans, skills, tools and templates required to start their own agroecological coaching businesses, providing services so desperately needed in the rural sector today.
Read more here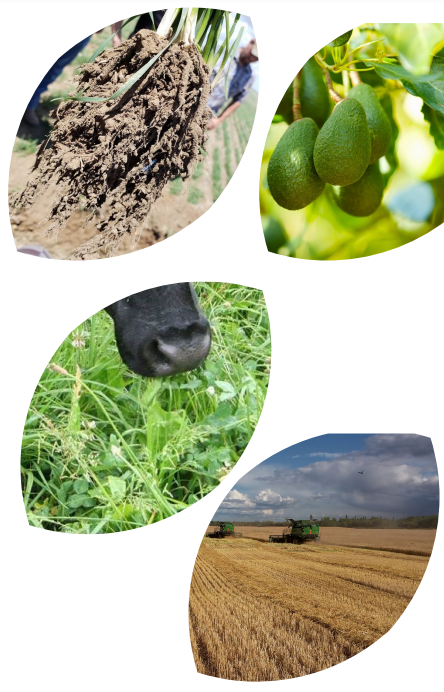 What the CREATE Program Offers
The CREATE program offers you the world's most in-depth training in agroecological systems thinking. Topics dig deep into microbiology, soil science, agronomy, plant physiology, management, mindset and behavior change. Combining practice and cutting-edge science, you will acquire and cultivate the skills and observations to offer true holistic agricultural options to your clients.
100% of Past Students Agreed That CREATE...
1. Profoundly altered their ability to diagnose many on-farm/ranch challenges.

2. Increased their ability to effectively coach and train producers.

3. Has improved their technical understanding of minerals and microbes
Listen to What Past CREATE Students Have to Say!
| Class Date | Weeks | Topic 1 | Topic 2 |
| --- | --- | --- | --- |
| 3-9 Sept | Week 1 | Classroom week Althorp | N/A |
| 14 Sept | Week 2 | Coaching Call | Review |
| 21 Sept | Week 3 | Planning part 1: Taking samples in field | Syntropic Business Part 1 |
| 28 Sept | Week 4 | Coaching Call | Review |
| 5 Oct | Week 5 | Coaching foundations | Proposal for big audacious project- business plan part 2 |
| 12 Oct | Week 6 | Coaching Call | Review |
| 19 Oct | Week 7 | Chemistry for Producers | N/A |
| 26 Oct | Week 8 | Coaching Call | Review |
| 2 Nov | Week 9 | Soil Tests | Carbon |
| 9 Nov | Week 10 | Coaching Call | Review |
| 16 Nov | Week 11 | "Plant Ecology"and indicators | Calcium |
| 23 Nov | Week 12 | Student share draft business plans in hubs. | N/A |
| 30 Nov | Week 13 | Microbiology | Phosphorus |
| 7 Dec | Week 14 | Coaching Call | Review |
| 14 Dec | Week 15 | Microbial plant comms | Nitrogen |
| 21 Dec | Week 16 | Coaching Call | Review |
| 28 Dec | Week 17 | Human Nutrition microbiome | Boron |
| 4 Jan | Week 18 | Coaching Call | Review |
| 11 Jan | Week 19 | Water/Drought/climate | Potassium |
| 18 Jan | Week 20 | Coaching Call | Review |
| 25 Jan | Week 21 | Composting | Magnesium |
| 1 Feb | Week 22 | Coaching Call | Review |
| 8 Feb | Week 23 | Crop Soil Management | Manganese and Iron and redox |
| 15 Feb | Week 24 | Coaching Call | Review |
| 22 Feb | Week 25 | Grazing Management | Selenium |
| 29 Feb | Week 26 | Coaching Call | Review |
| 7 Mar | Week 27 | Animal Health | Copper and Sulfur |
| 14 Mar | Week 28 | Coaching Call | Review |
| 21 Mar | Week 29 | Soil Management - Trees | Cobalt and Molybdenum |
| 28 Mar | Week 30 | Coaching Call | Review |
| 4 Apr | Week 31 | Insects and Disease | Sodium and Iodine |
| 11 Apr | Week 32 | Coaching Call | Review |
| 18 Apr | Week 33 | Finances, Marketing and Legalese | Zinc and Silica |
| 25 Apr | Week 34 | Coaching Call | Review |
| 29 Apr - 2 May | Week 35 | Final session - Althorp Estate | 4 days to share client reports and business plans |
Frequently Asked Questions
Who is this course for?

People who have a combination of the following skills and experiences: practical farming/ranching/growing experience and/or science and technical background in horticulture/ agriculture/soil science or ecology.

People who have a commitment and vision bigger than themselves. People who are coachable and willing to ask the hard questions of themselves. People who enjoy coaching and empowering others. Communicators and educators. Ecological thinkers. People who recognize regeneration is a journey not a destination. People who can bring a degree of humility and can leave their ego at the door. People who are already working in consultancy, facilitation or education.

Each application will be considered on a case-by-case basis.

For Serious Professionals Only
We consider this program an equivalent of a Masterate - only deeper!
This course will require a major investment from you. Picture the depth and breadth of topics we need to cover for you to start your own coaching business, be prepared to put in the work and you will reap a bountiful harvest.
What are the commitments for this program?

The course is 8 months in total. After the initial 6 days in class, we estimate 8-14 hours per week of self-directed coursework, which includes reading, practical work and online sessions. There are also weekly coaching (1 hour), hub calls and 3-hour webinar sessions. At the end of the program, we come together for a final 4-day digestion session.

You will have a special project to work on for the duration of the program, using a property you choose (or we can provide a case study) to create an in-depth written report and recommendations for action.

You will need to choose 2 sites to take soil mineral, microbial, leaf tests and visual assessments. The Regen Platform powered by Soil Mentor is provided free to students to collect their first round of observations. 

This report is based on the foundational diagnostics, templates and framework provided. This course will require a major investment from you in time, commitment and self-development. Picture the depth and breadth of topics we need to cover for you to start your own coaching business, be prepared to put in the work and you will reap a bountiful harvest.
Wisdom from Past CREATE Students

"This program is for folks who are looking to take their agroecological careers to the next level and solve big challenges in ag".

"Anyone willing to make big changes in their attitude and knowledge would be great for this"

"Work on your English/writing skills to prepare for report writing".

"If you have a full-time job and you're not ready to go hard, then sit this one out until you feel ready to give it all".

"This program is for highly driven and motivated people with a strong "why."

"Give yourself the full 20-30 hours each week."

"Take stock of all of the materials and resources you are given and plan to go deep in the tech/nerd stuff later."

"Be present and dive deep with your cohort."

"You have some of the best ag coaches in the world at your fingertips. Make sure you use every coaching session you can!"

"Dig deep it will pay off so much".
When & where is CREATE 2023?

CREATE begins in-person on the 3rd of September 2023. The initial classroom time begins on the afternoon of the 3rd with 6 days in class, students leave on the morning of the 10th. We will be hosted at the historic Althorp Estate at Northamptonshire, UK.

At the end of the online portion, we come together for a final 3-day digestion session 29 April til 2nd May 2023, again at Althorp.
Where do I stay for the practicums?

We have accommodation for you on-site at Althorp Estate. Food is provided. Special meal requests can be considered.

https://althorpestate.com/
Is this an online or in-person program?

Both (see above.) The 8 months are online with the beginning and final practicum in-person.
How many people can attend?

For the 2023 intake, we are limiting student numbers to no more than 20.
What is the deadline for the application?

The Deadline for applications closes on the 14th of July 2023
Do I need formal qualifications?

Not necessarily. The ability to observe and critically think is the most valuable capability to bring. Each applicant will be considered based on their own merits. Recommended pre-reading includes Nicole's book "For the Love of Soil" and books by Carol Sanford.
Can anyone join the Integrity Soils Fellowship?

The Fellowship is an invitation only group offered to those who excel during the CREATE course. Students can choose to proactively partner with the Integrity Soils and be profiled on our website.
Who is this course NOT for?

Although each application will be considered on a case-by-case basis. People that have no experience in food/fibre production will not be considered.

This is not a program for the faint-of-heart, for those wanting business as usual, or those who rest on their laurels. If you would describe yourself in any of the following ways:

If personal development does not interest you, or you do not value investing in yourself. If you're looking for a prescription. If you just want to change from one input system to another or are looking for 'the silver bullet answer'. If you're an agronomist who sees Regenerative Ag is the next big trendy ticket. If you're looking for just another marketing tool...

Then this is not the program for you!
Who Is Behind CREATE?
Together this team pulls together diverse and powerful skills in communication, facilitation, coaching and behaviour change science, with decades of practical experience in regenerative, agroecological systems.
As a team they bring established track records in capacity building and empowering farmers, ranchers, growers and land care organizations.
Nicole Masters

Nicole is a globally recognised agroecologist, speaker and author of the book "For the Love of Soil". She has over 24 years practical farming and food production experience, with 20 years of experience as an agroecological coach and educator. Nicole is formally trained in soil science, organizational learning, pattern thinking, and adult education. She has worked closely with diverse production sectors from; dairy, sheep & beef, viticulture, compost, nurseries, market gardens, racing studs, lifestyle blocks to large-scale cropping. Working with such diverse clients has fostered a broad knowledge and understanding of the challenges facing different production systems. During many of her years as an educator, Nicole has been practically involved in food production.

Meagan Lannan

Meagan has the great pleasure to serve on Nicole Masters' international team of agroecological coaches that are training systems thinking, boots-on-the-ground ecological coaches to work with ranchers and farmers worldwide. Meagan is an animated, straightforward coach that sparks potential through curious questions to ignite crucial conversations that open gates for action. Her joy in coaching is working with an individual or team, with a story of challenges and transforming those into a reality of possibility and opportunity.  When not
coaching humans, Meagan is calling cows. She and her husband own Barney Creek Livestock, a regenerative adaptive grazing operation in Montana's Paradise Valley in the Greater Yellowstone ecosystem.

Jules Matthews

Jules manages a farm near Wellington, NZ. A whole-hearted regenerative practitioner, she is passionate about making a difference for people. Jules backs up her passion to empower meaningful change through a solid background in multiple disciplines, including; neurolinguistics, ontological coaching, epigenetics, farm management, the production of nutrient-dense food and an uncanny ability to train stock dogs.

Cody Spencer

Cody is a land steward from the high plains of Alberta, Canada. He is the owner of Sweetgrass Bison, a company dedicated to the regenerative rematriation of plains bison to their ancestral lands and providing nutrient-dense food to his community. With over 10 years experience in land management in Texas and Alberta he coaches other producers across North America transitioning soil to regenerative systems. He lives with his wife and two boys along the front ranges of the Rocky Mountains.

Felix Egerer

Felix is a soil-nerd and viticulturist growing premium wine grapes on 50+ acres for Unsworth Vineyards on British Columbia's Vancouver Island. He is a graduate of the Viticulture & Enology programs at UC Davis and Geisenheim University. Previous positions in the wine industry have taken him to Canada, the USA, Australia, France, and Germany. With over a decade in winemaking and viticulture, and his insatiable natural curiosity, he manages the vineyard with agroecological principles in mind. He brings a great depth of technical and practical experience to the team. Felix also supports other growers in thinking outside their trellis-shaped boxes and transition their operations to regenerative models through his company

Agricola Soils.
Choosing a selection results in a full page refresh.